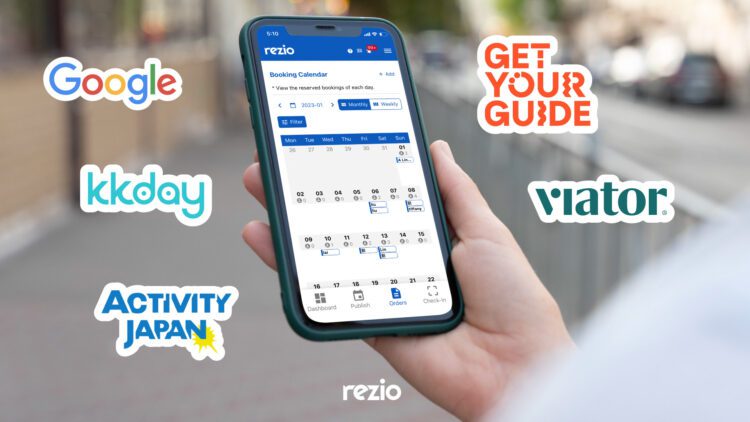 This strategic collaboration with major online travel partners not only underlines Rezio's expansion efforts in the global experiences market, but also reinforces the importance of having excellent technical connectivity with distribution channels. In order to best serve the market, the collaboration between digital booking systems and third-party sales channels has become more important than ever. Consequently, this marks another significant step in Rezio's goal to expand its network of distribution channels and connect their merchants to the world beyond the current available channels.
With such integrations, merchants are now able to utilise Rezio's API connectivity with various Online Travel Agents to easily list their experiences on the OTA's platform on top of their existing sales channels, and yet manage all their bookings under one powerful system that is Rezio. This allows merchants to improve their connectivity and manage their travel business more efficiently as they distribute their products to the global market to welcome back international tourism.
This also creates a new incentive for operators of tours, activities and attractions to invest in rezio's powerful booking system in order to be ideally positioned across all sales channels and strengthens the company's objective to be an all-in-one solution for merchants in their digitalisation journey."The connectivity between booking systems and sales channels like OTAs is becoming increasingly important. We are excited to integrate with the various international marketplaces to make it fast and simple for our merchants to improve their distribution by expanding their sales channels beyond the Asian market using our API links." said Jasmine Lin, CEO at Rezio. "We expect our partnership with the OTAs to drive significant engagement and conversion for our merchants for the European and US market as the global travel market opens up."
About Rezio
Founded and headquartered in Taipei since 2019, Rezio is Asia's Best Online Booking System for Attractions, Tours and Activities Companies designed for the Tourism Industry to help digitise local businesses and connect them to the world. Created for tour operators and activity providers, especially those who previously operated mostly offline, Rezio is an all-in-one software-as-a-service system that helps reduce operational costs by allowing its users to set up their e-commerce store that works with different payment gateways and maintain real-time inventory management across different channels with the ability to design customised vouchers for various booking scenarios. Till date, Rezio is already supporting more than 2,000 merchants globally with more than 15,000 experiences in its portfolio.
Follow BOTT on LinkedIn, Facebook, Twitter & Instagram
Subscribe BOTT Channels on WhatsApp & Telegram to receive real time updates