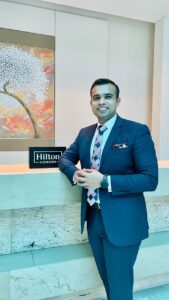 With over a decade of experience from different markets around the Golden triangle, Harsh has worked with prominent brands like Hilton Hotels, The Oberoi Group, Marriott International and IHG Hotels & Resorts to name a few.
In all his assignments Harsh has demonstrated the ability to ensure increased sales through up-selling techniques as well as implementing processes that drive profitability. Harsh excels in handling corporate to leisure, and weddings to MICE and is actively involved in strategic revenue planning across verticals. In his new role, Harsh will focus on developing new market segments and strategies as the hotel walks into the new financial year.
Harsh is an inquisitive explorer and enjoys travelling in mountains & adventure. He follows fitness as a passion. 
Follow BOTT on LinkedIn, Facebook, Twitter & Instagram
Subscribe BOTT Channels on WhatsApp & Telegram to receive real time updates