Art of Cleansing, Detox & Revitalizing Retreat
A well-deserved program which focuses primarily on the experience and implementation of various mind and body techniques based on the concepts and philosophies of Yoga, Meditation and Ayurveda, to detoxify your mind, body and soul with a renewed sense of vitality and enhance synergy in your life through a balanced approach. Five-night packages start at INR 62500 per person and Seven-night packages start at INR 87500 per person Includes Wellness Consultation; Personalized Fitness Consultation and Yoga and Pranayama Sessions; Doctor Prescribed detoxifying Massage therapies; Naturopathy Herbal Packs; Wrap Therapy; Colon hydrotherapy and wellness meals focusing on nutrient-dense whole foods using the farm to fork concept.
Optimal Weight Management Retreat
When it comes to obesity, hypertension and stress, Fazlani Natures Nest believes in resolving the root cause of the problem through improved Weight Management and Heart Health program. Like all the other offerings by The Fazlani Natures Nest, this is specially designed to suit each individual's needs and the various programs are developed and conducted with the help of experts, doctors, and highly experienced hospitality professionals.
Conscious Change Retreat
Mental Health is another aspect of our lives that, when overlooked, can lead to more serious issues. With all the demands from both personal and professional lives, it may be easy not to pay too much attention to our mental well-being. Hence, we may not be able to notice that these stressors may already be taking their toll on us. Fazlani Natures Nest Executive Health programs will help address work-related depression, stress, and anxiety.  Fazlani Natures Nest believes that a Healthy workforce is a productive workforce and establishing a culture that encourages wellness among employees helps decrease job turnover and leads to job satisfaction. With this ideology in mind the retreat has been designed keeping in mind the elements of a healthy lifestyle, Self-care and mindfulness.
Overlooking the azure waters of Andra Lake and surrounded by dense green lands with a plethora of flora and fauna, Fazlani Natures Nest is a luxurious haven to immerse in nature to rejuvenate and rebalance the body, mind and soul.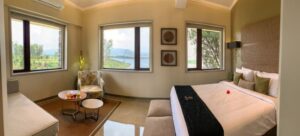 The luxury wellness resort is conveniently located between Mumbai and Pune and sprawls over 68 acres. This spectacular panorama of natural beauty will leave you spellbound. The resort offers bespoke wellness retreats which use a combination of alternative medicine approaches be it the age-old science of traditional Ayurveda, Naturopathy, Acupuncture, Acupressure, Physiotherapy or unique wellness offerings like 'Equine' therapy.
Fazlani Natures Nest hosts wide-ranging Yoga practices to help its guests heal holistically. Various lifestyle disorders are addressed at Fazlani Natures Nest. One can choose from a menu of detox and revitalizing retreat, lifestyle disorder management retreat, immune resilience retreat, natural relaxation retreat and optimal weight management retreat. Guests can also experience forest bathing at the resort.
The wellness cuisine at the luxury wellness resort plays an important role in helping guests achieve their desired wellness goals, drawing raw material from its large organic farms and fruit orchards for a Farm to Fork approach to ensure that only the freshest, healthiest, and fully balanced meals are brought to the guest's table.
Follow BOTT on LinkedIn, Facebook, Twitter & Instagram
Subscribe BOTT Channels on WhatsApp & Telegram to receive real time updates