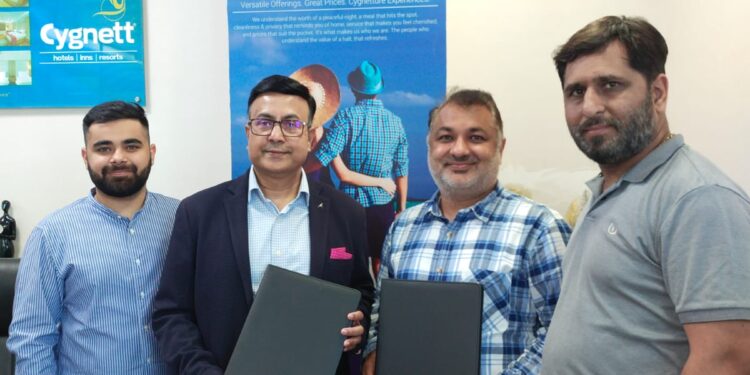 The hotel will feature a multi-cuisine restaurant and a Quick Service Restaurant (QSR) with a seating capacity of 300 guests.
Cygnett Sonipat will offer multiple banqueting and conferencing facilities, capable of accommodating up to 900 guests. With a range of venues to host workshops, product launches, exhibitions, weddings, and other social events, the hotel will cater to a diverse clientele.
Founder and Managing Director of Cygnett Hotels & Resorts, Sarbendra Sarkar, commented on the signing, "We are thrilled to establish our presence in the significant district of Sonipat, which is both an industrial and educational hub. The property will be well-positioned to cater to the local wedding market as well. This hotel is a significant addition to our rapidly expanding portfolio of hotels in the country. We are confident that it will create a niche market for itself in the region."
Located approximately 44 kilometers from New Delhi, Sonipat is an industrial hub and home to several esteemed universities. The region also boasts a rich history dating back to the Mahabharata era, when it was known as "Swarnprastha." The Sikhs under Banda Singh Bahadur fought the Battle of Sonipat against the Mughals in 1709.
Cygnett Hotels & Resorts is excited to add this new property to its growing portfolio and looks forward to welcoming guests to Sonipat in the near future.
ABOUT CYGNETT HOTELS & RESORTS:
Cygnett Hotels & Resorts, established in 2014, operates a diverse portfolio of economy, midscale to upscale properties with key business and leisure locations. The hotel has 18 operational hotels with 1000+ keys with 7 more openings this year and an additional 8 under projects.
Cygnett Hotels is a technology-driven brand that continues to invest in leading technologies to drive better ROI for its Owners and to deliver a great experience to our guests. It offers Franchise Plus and Management models to provide support to hotel partners.  The group wants to be known as a smart hotel brand across upscale, midscale, and economy brands, offering a comfortable and safe stay to value-conscious domestic travellers. It has recently launched two additional brands Cygnett Villas, a concept of branded holiday Villas, and Cygnett Collections a brand that will support standalone hotels and provide them with complete Sales, Marketing, and Revenue support.
Cygnett Hotels & Resorts is a group actively working to open 100+ Hotels across 75+ cities in South Asia within the next five years. The group has diverse brands for hotels, resorts, retreats, residences, and villas.
Follow BOTT on LinkedIn, Facebook, Twitter & Instagram
Subscribe BOTT Channels on WhatsApp & Telegram to receive real time updates