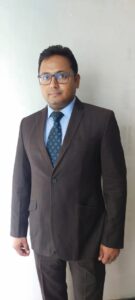 As an industry expert, AjayVeer has 21 years of experience working in the hospitality industry, serving various international and domestic brands. AjayVeer has worked as General Manager (Operations & Business Development) with Best Western Hotels in Dar Es Salaam, Tanzania, A Luxury Beach Resorts, Vice President of Sales & Marketing with Royal Orchid Hotels and his last assignment was General Manager (Operations & Business Development) with Azure Hotels in Nairobi, Kenya.
A Hotel Management Graduate from IHM Bhopal and Masters in Business Administration, AjayVeer is skilled in Hospitality Management, Revenue Analysis, Revenue Management, Sales & Marketing, OTP Management, Digital Marketing, Social Media Management, Brand Management, Financial Analysis and Pre-openings.
On his appointment, Mr Sarbendra Sarkar, Founder & MD, Cygnett Hotels & Resorts said, "We are delighted to welcome AjayVeer as an integral part of the team. A seasoned hotelier, he brings with him a wealth of experience and will be instrumental in driving the commercial strategy of the group and achieving new benchmarks."
Cygnett Hotels & Resorts, established in 2014, operates a diverse portfolio of economy, midscale to upscale properties with key business and leisure locations. The hotel has 18 operational hotels with 1000+ keys with 7 more opening this year and additional 8 under projects.
Cygnett hotels is a technology driven brand which continues to invest in leading technologies to drive better ROI for its Owners and to deliver a great experience to our guests. It offers Franchise Plus and Management models to provide support to hotel partners.  The group wants to be known as a smart hotel brand across upscale, midscale and economy brands, offering a comfortable and safe stay to the value conscious domestic travellers. It has recently launched two additional brands Cygnett Villas, a concept of branded holiday Villas and Cygnett Collections a brand which will support standalone hotels and provide them with complete Sales, Marketing and Revenue support.
Follow BOTT on LinkedIn, Facebook, Twitter & Instagram
Subscribe BOTT Channels on WhatsApp & Telegram to receive real time updates