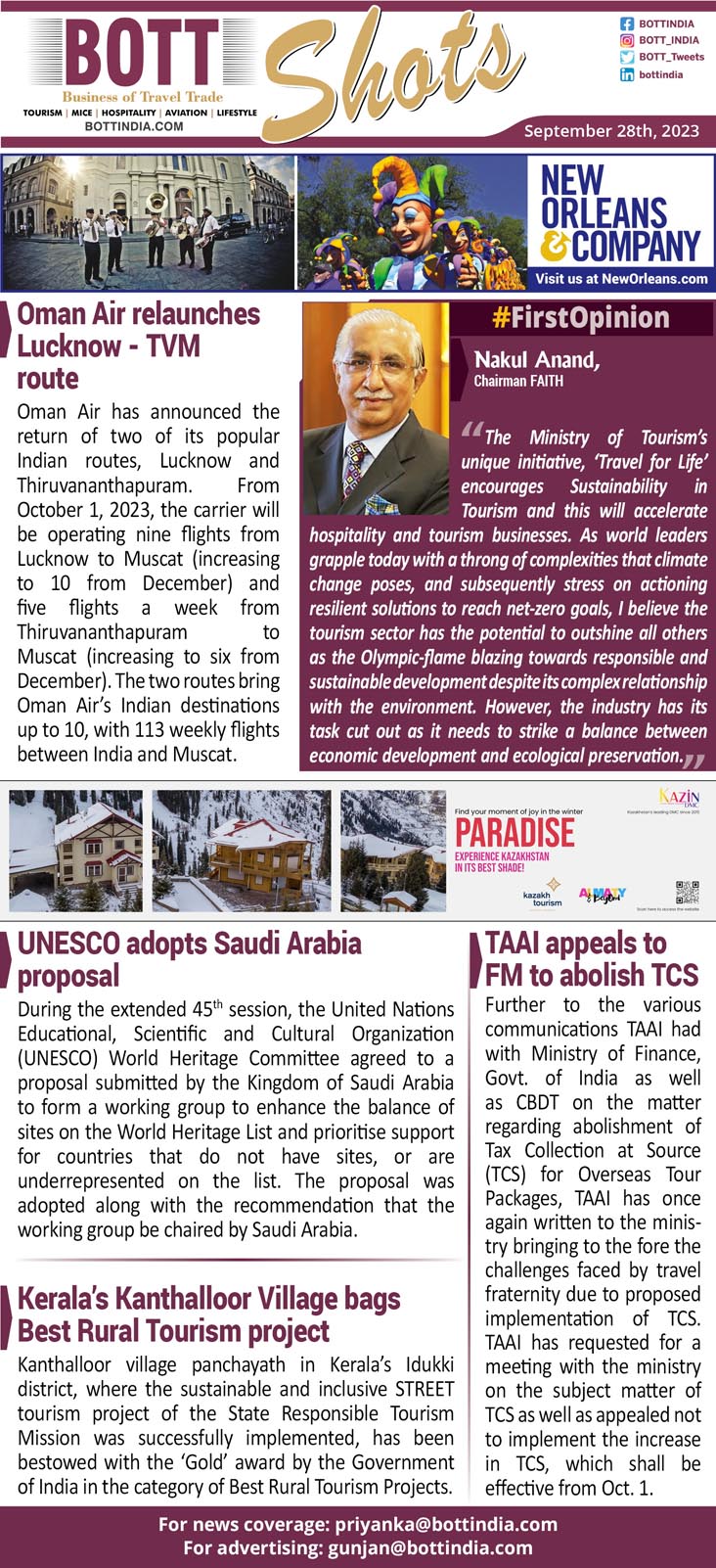 Oman Air relaunches Lucknow – TVM route
Oman Air has announced the return of two of its popular Indian routes, Lucknow and Thiruvananthapuram. From October 1, 2023, the carrier will be operating nine flights from Lucknow to Muscat (increasing to 10 from December) and five flights a week from Thiruvananthapuram to Muscat (increasing to six from December). The two routes bring Oman Air's Indian destinations up to 10, with 113 weekly flights between India and Muscat.
UNESCO adopts Saudi Arabia proposal
During the extended 45th session, the United Nations Educational, Scientific and Cultural Organization (UNESCO) World Heritage Committee agreed to a proposal submitted by the Kingdom of Saudi Arabia to form a working group to enhance the balance of sites on the World Heritage List and prioritise support for countries that do not have sites, or are underrepresented on the list. The proposal was adopted along with the recommendation that the working group be chaired by Saudi Arabia.
Kerala's Kanthalloor Village bags Best Rural Tourism project
Kanthalloor village panchayath in Kerala's Idukki district, where the sustainable and inclusive STREET tourism project of the State Responsible Tourism Mission was successfully implemented, has been bestowed with the 'Gold' award by the Government of India in the category of Best Rural Tourism Projects.
TAAIs appeals to FM to abolish TCS
Further to the various communications TAAI had with the Ministry of Finance, Govt. of India as well as CBDT on the matter regarding abolishment of Tax Collection at Source (TCS) for Overseas Tour Packages, TAAI has once again written to the ministry bringing to the fore the challenges faced by travel fraternity due to proposed implementation of TCS. TAAI has requested for a meeting with the ministry on the subject matter of TCS as well as appealed not to implement the increase in TCS, which shall be effective from Oct. 1.
#FirstOpinion
"The Ministry of Tourism's unique initiative, 'Travel for Life' encourages Sustainability in Tourism and this will accelerate hospitality and tourism businesses. As world leaders grapple today with a throng of complexities that climate change poses, and subsequently stress on actioning resilient solutions to reach net-zero goals, I believe the tourism sector has the potential to outshine all others as the Olympic-flame blazing towards responsible and sustainable development despite its complex relationship with the environment. However, the industry has its task cut out as it needs to strike a balance between economic development and ecological preservation."
Nakul Anand,
Chairman FAITH
Follow BOTT on LinkedIn, Facebook, Twitter & Instagram
Subscribe BOTT Channels on WhatsApp & Telegram to receive real time updates