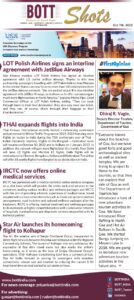 LOT Polish Airlines signs an interline agreement with JetBlue Airways
Star Alliance member LOT Polish Airlines has signed an interline agreement with US carrier JetBlue Airways. Thanks to this new partnership, passengers travelling with LOT Polish Airlines from Warsaw to the United States can now fly on to more than 100 destinations from the JetBlue Airways network."We are excited about this new interline agreement with JetBlue Airways, as it allows us to offer our passengers much more flight options in North America," explains Michal Fijol, Chief Commercial Officer at LOT Polish Airlines, adding, "They can book through-fares to their final destination; they also only need one ticket, and they can, of course, check through their baggage to their final destination."
THAI expands flights into India
Thai Airways International recently hosted a networking conference and presented its Winter Traffic Programme 2022-2023 featuring more flights on routes to India during the 75thanniversary year of Thai – Indian diplomatic relations. Flights on the Bangkok – Hyderabad route will resume on October 30, 2022 and to Kolkata on 1 January 2023. In addition, the network will gain more flights later this month. New Delhi will have 22 flights and Mumbai 11 flights. Daily flights will be reintroduced to Chennai, Bengaluru, Kolkata and Hyderabad. The airline will offer 61 weekly flights from Bangkok to six destinations in India.
IRCTC now offers online medical services
IRCTC has partnered with a medico-technical online services company on a pilot basis which will provide the entire back-end services to the customers availing various medical and wellness packages and IRCTC with this aim of providing a holistic experience of medical value, travel coupled with various other elements such as travel and accommodation arrangements, road transfers and optional wellness packages after the treatment.IRCTC is offering medical treatment and wellness packages to its customers at highly competitive prices with a substantial network of hospitals, nursing homes and diagnostic centres empanelled with its technical partner.
Star Air launches its homecoming flight to Kolhapur
Star Air, the aviation arm of Sanjay Ghodawat Group, inaugurated its direct flight services between Mumbai and Kolhapur under the Regional Connectivity Scheme.The launch of Kolhapur not only celebrates the expansion of Star Air's travel route but also marks the airline's homecoming, as it serves as the base of Sanjay Ghodawat Group's operations. With Kolhapur transitioning itself into a commercial hub, Star Air looks forward to serving its passengers with seamless connectivity, utmost care and comfort by reducing the current 8-10 hour travel time via road and rail to just under an hour.
#FirstOpinion
"Everyone knows about the beaches of Goa, but we have good forts and good archaeological sites as well as ancient temples. We are trying to project to these to the tourists, so that they can explore that side of Goa as well. The Department of Tourism has introduced a host of new adventure tourism activities in Goa. We have introduced River Rafting in North Goa and Hot Air Balloon in South Goa. We started Bungy Jumping on Mayem Lake in 2018. We are going to introduce new adventure tourism activities in the future also."
Dhiraj R. Vagle, Deputy Director Tourism, Department of Tourism, Government of Goa
Follow BOTT on LinkedIn, Facebook, Twitter & Instagram
Subscribe BOTT Channels on WhatsApp & Telegram to receive real time updates