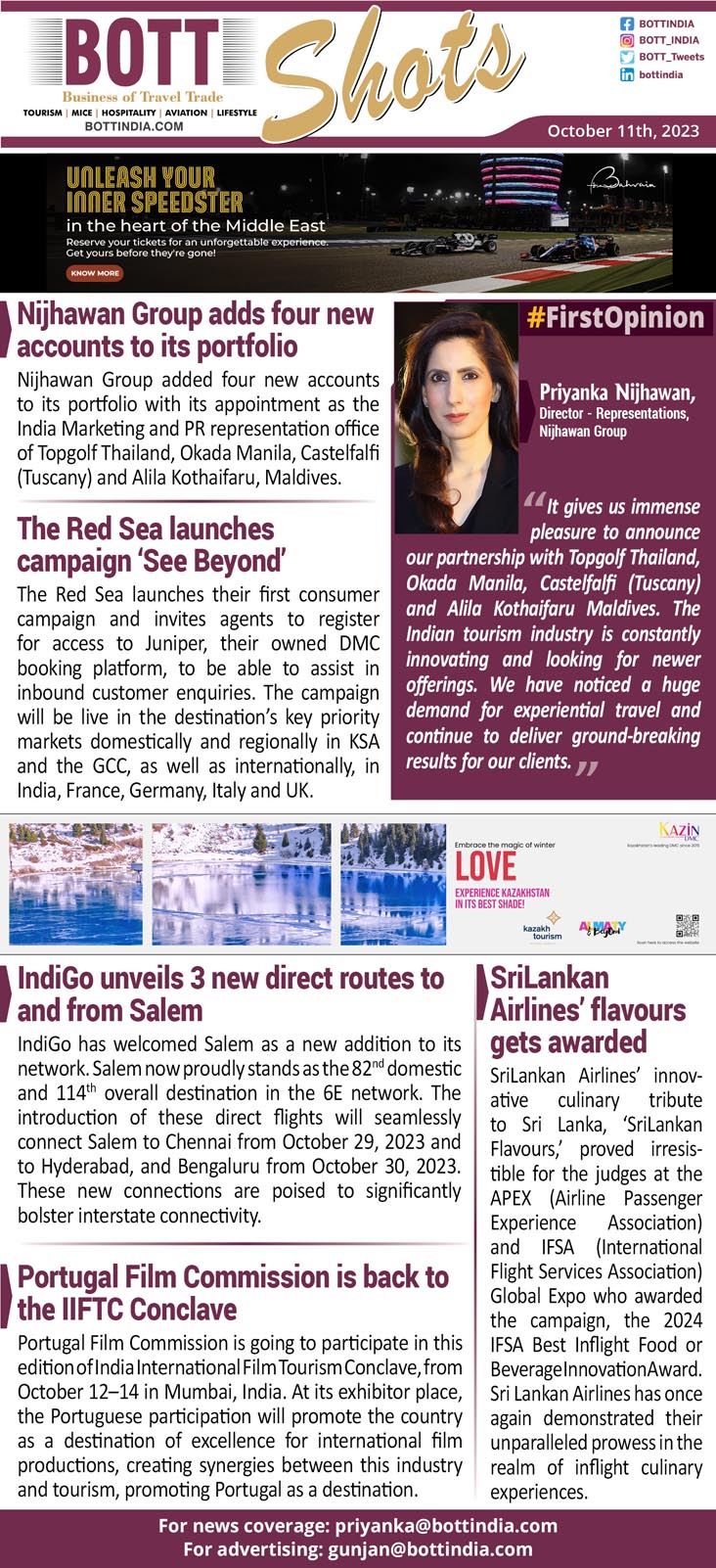 Nijhawan Group adds four new accounts to its portfolio
Nijhawan Group added four new accounts to its portfolio with its appointment as the India Marketing and PR representation office of Topgolf Thailand, Okada Manila, Castelfalfi (Tuscany) and AlilaKothaifaru, Maldives.
The Red Sea launches campaign 'See Beyond'
The Red Sea launches their first consumer campaign and invites agents to register for access to Juniper, their owned DMC booking platform, to be able to assist in inbound customer enquiries. The campaign will be live in the destination's key priority markets domestically and regionally in KSA and the GCC, as well as internationally, in India, France, Germany, Italy and UK.
IndiGo unveils 3 new direct routes to and from Salem
IndiGo has welcomed Salem as a new addition to its network. Salem now proudly stands as the 82nd domestic and 114thoverall destination in the 6E network. The introduction of these direct flights will seamlessly connect Salem to Chennai from October 29, 2023 and to Hyderabad, and Bengaluru from October 30, 2023. These new connections are poised to significantly bolster interstate connectivity.
Portugal Film Commission is back to the IIFTC Conclave
Portugal Film Commission is going to participate in this edition of India International Film Tourism Conclave, from October 12 – 14in Mumbai, India. At its exhibitor place, the Portuguese participation will promote the country as a destination of excellence for international film productions, creating synergies between this industry and tourism, promoting Portugal as a destination.
SriLankan Airlines' flavours gets awarded
SriLankan Airlines' innovative culinary tribute to Sri Lanka, 'SriLankan Flavours,' proved irresistible for the judges at the APEX (Airline Passenger Experience Association) and IFSA (International Flight Services Association) Global Expo who awarded the campaign, the 2024 IFSA Best Inflight Food or Beverage Innovation Award. Sri Lankan Airlines has once again demonstrated their unparalleled prowess in the realm of inflight culinary experiences.
#FirstOpinion
"It gives us immense pleasure to announce our partnership with Topgolf Thailand, Okada Manila, Castelfalfi (Tuscany) and AlilaKothaifaru Maldives. The Indian tourism industry is constantly innovating and looking for newer offerings. We have noticed a huge demand for experiential travel and continue to deliver ground-breaking results for our clients."
Priyanka Nijhawan,
Director – Representations, Nijhawan Group
Follow BOTT on LinkedIn, Facebook, Twitter & Instagram
Subscribe BOTT Channels on WhatsApp & Telegram to receive real time updates