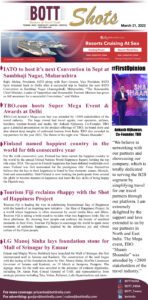 IATO to host it's next Convention in Sept at Sambhaji Nagar, Maharashtra
Rajiv Mehra, President, IATO along with Ravi Gosain, Vice President, IATO have returned back to Delhi after a successful trip to finalise the next IATO Convention in Sambhaji Nagar (Aurangabad), Maharashtra. "The Honourable Chief Minister, Leader of Opposition and Honourable Tourism Minister has given us full assurance for a successful Convention," said Mehra.
TBO.com hosts Super Mega Event & Awards at Delhi
TBO.Com hosted a Mega event that was attended by +2800 stakeholders of the travel industry.  The huge crowd had travel agents, tour operators, airlines, hoteliers, tourism boards and media. Mr. Ankush Nijhawan, Co-Founder, TBO gave a detailed presentation on the product offerings of TBO; its brand story and also shared deep insights of outbound tourism from India. TBO also awarded its top partners for the year 2022. The theme of the night was "Shaam Shaandar".
Finland named happiest country in the world for 6th consecutive year
For the sixth consecutive year, Finland has been named the happiest country in the world by the annual United Nations World Happiness Report, holding the top title since 2018. The secret to Finnish happiness has been debated worldwide ever since Finland was first nominated for the prestigious title. Finns themselves believe that the key to their happiness is found in four elements: nature, lifestyle, food and sustainability. Visit Finland is now looking for participants from around the globe to become masters in happiness and learn the key skills of being happy the Finnish way.
Tourism Fiji reclaims #happy with the Shot of Happiness Project
Tourism Fiji is leading the way in celebrating International Day of Happiness with the launch of an inspiring new initiative – the Shot of Happiness Project. In a world where happiness is often measured by social media likes and filters, Tourism Fiji is taking a bold stand to reclaim what true happiness looks like on these platforms. By showing how people can embrace the beauty of unedited moments in their lives, Tourism Fiji hopes to encourage the world to spark more moments of authentic happiness, inspired by the infectious joy and vibrant culture of the Fijian people.
LG Manoj Sinha lays foundation stone for Mall of Srinagar by Emaar
Emaar and Magna Waves Buildtech have launched the Mall of Srinagar, the first international mall in Jammu and Kashmir. The construction of the mall began with the laying of the foundation stone by Shri. Manoj Sinha, Hon'ble Lieutenant Governor of Jammu and Kashmir, on 19 March at Sempora, Pampore. The signage stone for the mall was unveiled in the presence of eminent dignitaries, including Dr. Aman Puri, Consul General of UAE; and representatives from strategic partners including Tata, Voltas, Reliance, Lulu Hypermarkets and more.
#FirstOpinion
"We believe in networking with our partners and showcasing our company, which is totally dedicated to serving the B2B segment by simplifying travel for our travel partners through our platform. I am extremely delighted by the support and love extended to us by our partners in North and East India. The Mega event, TBO "Shaam Shaandar" was attended by +2800 stakeholders of the travel industry."
-Ankush Nijhawan, Co-Founder, TBO
Follow BOTT on LinkedIn, Facebook, Twitter & Instagram
Subscribe BOTT Channels on WhatsApp & Telegram to receive real time updates