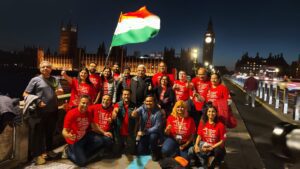 The convoy comprised ten cars; 21 travel enthusiasts in their late 20's to 60's made this epic journey via 20 countries. The adventurous journey was flagged off on the eve of India's 75th Independence Day, boldly creating a statement that Indians are on the road to everywhere and have the grit and the determination to conquer any and every route on the planet.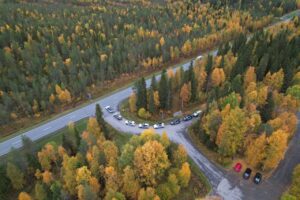 Tushar Agarwal and Sanjay Madan, Guinness World Record Holders, came together in 2012 and founded Adventures Overland, India's leading niche travel company that offers one first-of-its-kind self-driving expeditions across six continents. They are also the pioneers in cross-border as well as fly-and-drive excursions in India.
Tushar Agarwal, Co-Founder, Adventures Overland, said, "The fourth Road to London has set new benchmarks for road trips with its route and the experiences created for the travellers. This year the Road to London took a slightly different route than the past three trips and commenced from Iran to reach London through this route for the first time. We are delighted that the trip created so many memorable moments and the experience of a lifetime for our travellers."
He further added, "Now that the market for road trips has matured and more people realise the love for travelling on the road, we have made our partner network more robust. Multiple levels of research are underway on customised offerings apart from the beaten tracks. These holidays are not for the everyday holidaymaker but for seasoned travellers seeking to see overlooked parts of the world. We look forward to more Indians joining us on these road trips and enjoying these distinctive experiences."
This self-drive convoy-style road trip had some of the most unique experiences. The Road to London 2022 travellers can proudly claim to have had breakfast in Hungary, a tea break in Slovakia, lunch in the Czech Republic, and dinner in Poland in a single day. In another instance, the convoy crossed into Greece from Turkey and then into Bulgaria from Greece, adding another country to the leg due to a last-minute call concerning a triangular border shared between Turkey, Bulgaria and Greece.  An incident worth reminiscing was when the Turkish border police savoured Indian besan laddoos, although they told the crew to carry Alphonso mangoes whenever they travelled back to Turkey. And the most beautiful part of this journey was the story of the Vukovar-Croatia border war narrated by a Serbian-Croatian couple united by love.
The 'Road to London' trip is an example of niche luxurious travel, which is an exhilarating experience. This year, people of various demographics again got together. They experienced mesmerising mountain peaks, acclaimed sites, rugged terrains, picturesque villages and alleys, tantalising cuisines, fluctuating weather conditions and the thrill of care-free travel. Each traveller could focus on building memories and cherishing each moment of the different legs of this epic excursion since the accommodation, travel tickets while on the journey, local sightseeing, and medical safety were all taken care of by Adventures Overland.
Follow BOTT on LinkedIn, Facebook, Twitter & Instagram
Subscribe BOTT Channels on WhatsApp & Telegram to receive real time updates