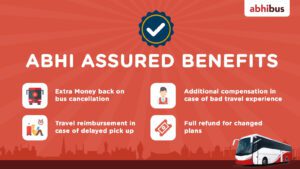 Bus delays or sudden cancellations without alternate resolution are some constant challenges being faced by Indian bus travellers which they have accepted as the status quo. Other negative experiences like misbehaviour en route, bad seat quality, and multiple quality issues are also currently plaguing the industry, and are yet to be resolved by and large.
To resolve these painful concerns faced by bus travellers, AbhiBus has launched a new feature called 'Abhi Assured' which provides gratification to passengers in the form of monetary compensation in case of bus delays, service cancellations, bad seat quality, bus model mismatch among a bunch of quality assurance points. Starting at a nominal price point of Rs. 9 per passenger, the new feature will benefit bus travellers facing unexpected delays or negative experiences that impact their bus journey. Through 'Abhi Assured' travellers can get up to 150% refund if the bus gets cancelled and a 100% refund if there are bus delays and bus quality mismatches.
Mr. Rahul Sharma, AVP, Product of AbhiBus said, "AbhiBus has always strived for the best customer experience through its booking platform. We are partnering with select like-minded bus partners to offer an elevated bus journey experience. Through 'Abhi Assured' travellers can claim a range of benefits through our service guarantees and get coverage of up to 150% of their ticket price in case of defaults. Our aim is to guarantee a safe, comfortable  & a seamless travel experience for all bus travellers through Abhi Assured."
In order to offer specific quality assurance to all 'Abhi Assured' users, AbhiBus has tied up with select bus operators known as 'ASSURED' partners. Assured partners are top-rated bus operators on AbhiBus who have received the highest service quality ratings on the platform over the years. Users can enjoy a risk-free bus travel experience by opting to pay a premium (starting at Rs. 9 per passenger) for the ASSURED tag benefits.
Follow BOTT on LinkedIn, Facebook, Twitter & Instagram
Subscribe BOTT Channels on WhatsApp & Telegram to receive real time updates