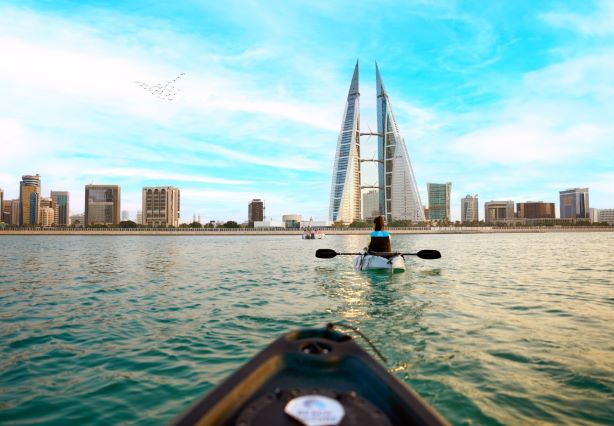 World UNESCO sites:
You should start your explorations with the UNESCO World Heritage Sites of Bahrain. One is the Dilmun burial mounds, which dominate the landscape north of the island. Another one is Qal'at al-Bahrain (known as Bahrain Fort), a sandy yellow fortress and by far the oldest intact building on the island. It is a small slice of mediaeval history in an ever-evolving nation. This heritage site comprises four elements: the tell, an ancient sea tower, a sea channel, and palm groves. While at the fort, you should try the horseback riding activity. Third, the Muharraq pearling path, which is a testimony to the millennia-old pearl collecting tradition. This path encompasses 330,000 square meters, including oyster beds and buildings related to the 19th-century pearl industry. The houses along the trail are those of wealthy merchants during that era. Many of which have now been restored and converted into museums, libraries, auditoriums, etc. to showcase the pearling story to tourists.
Soak up sun on the islands and beaches:
Bahrain, the only island country in the area, has some of the most tranquil islands and miles of fine sand beaches. You can choose to spend a day of your vacation lounging around, eating delicious meals, and drinking cool beverages on a beach. Your children can enjoy playing in the sand if you are with your family. The islands of Al Dar and Jarada offer a variety of exciting activities, like pearl diving and shucking (where you have the chance to locate and keep your very own pearl), parasailing, boat excursions, jet skiing, and more. You can even choose to have a fantastic barbecue at the beach. Hawar Island is another beautiful place to visit as it is a protected area rich in endangered species, marine flora, and fauna. This lovely island is well-known for its wildlife, and a tour of the island has to be one of the best things to do in Bahrain.
Places to shop till you drop:
Everyone enjoys shopping and brings mementos and trinkets home from their travels. If you want to shop for some exotic spices and authentic Arabian items like carpets, etc., then simply visit the souqs of Bahrain. If you are the kind of shopper who wants to shop for local and international brands, the plethora of malls in the destination will spoil you for choice. The best malls in Bahrain may be found as you explore the cities; these buildings not only define luxury but also provide a chance to buy international brands. Here are some of the malls and souqs to look up when in Bahrain: Moda Mall, The Avenues, City Centre, Seef Mall, Al Qusayrya Market, Gold Souq, etc.
Adrenaline activities:
Defy gravity during your next visit to Bahrain and experience the feeling of "free fall" at Gravity, the first ever indoor skydiving facility in Bahrain with the tallest wind tunnel in the world. Kids and adults both are welcome to experience this thrill.

If you're visiting Bahrain with your friends, family and kids, take them karting on the Bahrain International Circuit's (BIC) track. The Bahrain International Circuit is a must-visit automobile venue located in Sakhir which in the southern region of Bahrain. It also holds events such as drag racing, the GP2 Series, and the annual Gulf Air Bahrain Grand Prix. And of course, there is the thrilling 4×4 experience on the sand dunes.
For history buffs:
The destination is brimming with forts, museums and cultural sites just waiting to be explored. There are many places you can visit in Bahrain where one can experience their rich heritage and culture like the Arad Fort, Bahrain Fort, the Bahrain National Museum, Muharraq houses, Currency Museum, Sheikh Salman Bin Ahmed Al Fateh Fort, Al Fateh Mosque, Vertical Garden etc.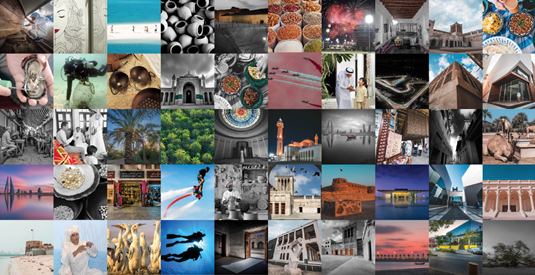 Other fun-filled places:
From the streets of Manama to the scenic islands, the Kingdom of Bahrain is overflowing with experiences for every kind of traveler. You can watch the potters at work at the A'ali Pottery Workshop, where traditional methods are used in ancient kilns in a tradition that has been handed down generation after generation. Take a tour of the Al Areen Wildlife Park, where all plant and endangered animal species have been protected and taken care of for over 30 years in their own natural environment. A perfect place for family fun is the Lost Paradise of Dilmun water park, which provides fun for all ages with special facilities and play areas designed to keep children amused for hours on end. A marvel in the desert that is worth a trip is the Tree of Life, which is famously known to have survived for over 100 years with no source of water. The Royal Camel Farm is on the outskirts of Manama and is a different kind of experience where one can feed the camel and even taste the milk.
A slice of paradise in the Middle East, Bahrain is an idyllic destination for those that prefer a holiday, combining natural beauty with fascinating history, adrenaline thrills and a peaceful atmosphere.
About BTEA
Bahrain Tourism and Exhibitions Authority was established in 2015 under the Royal Decree number (76) for the year 2015 issued by His Majesty King Hamad bin Isa Al Khalifa, King of Bahrain. Bahrain Tourism and Exhibitions Authority (BTEA)'s scope of work includes all sectors related to national tourism affairs in the Kingdom: organize conventions and trade exhibitions in the Kingdom of Bahrain; attract international, regional and local conferences to be hosted in the Kingdom; establish, manage, promote and maintain the Authority's conventions and exhibitions centers directly or through specialized companies or firms BTEA establishes solely or in partnership with others for the same purpose; grant licenses for conventions and trade exhibitions, supervise and assess them.
 The Tourism sector aims to attract prominent international events that engage large number of tourists and strengthen the position of Bahrain as an important tourism attraction on a regional and international level.
BTEA also aspires to boost the Tourism sector's contribution in the national economy, in line with the Bahrain Economic vision 2030 and toward achieving the goals of the Economic Development Board.
Follow BOTT on LinkedIn, Facebook, Twitter & Instagram
Subscribe BOTT Channels on WhatsApp & Telegram to receive real time updates