Siddharth Jain – Founder & Director Chalo DMC, already having a strong persistent association with Kazakhstan is extremely excited to re-launch his alliance with the destination. With his profound knowledge and proficiency in Kazakhstan, the team at Chalo DMC intend to capitalize on the strong and growing travel opportunity the region offers for travel from India.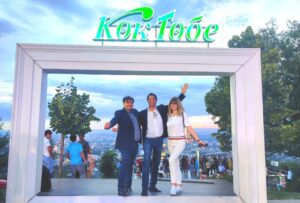 He shared, "There is a strong pent-up demand to explore the unexplored. Along with easing travel restrictions, having free Visas on arrival for Indian traveller and the commencement of direct flights from Delhi, all work as great stimulating factors for driving a positive consumer sentiment towards the Destination. Along with an enthusiastic team, we are looking forward to welcoming the Indian Traveller to explore this hidden Central-Asian gem."
Mr. Pranav Kapadia Director Sales and Marketing, highlighted, "We are delighted to announce the opening of our new office in Almaty, this expansion will augment Chalo DMC's distribution and reach as we are all set to offer our travel agent partners end-to-end travel solutions for Kazakhstan. We intend to accelerate demand with a wide range of travel accommodation options, ground handling services and multiple itineraries for the Destination".
The company's current focus in market is to cater to the specifics of Luxury Travel, Corporate, MICE, Honeymoon & couples as well as niche such as Golf Tours amongst the various other traveller segments.
Follow BOTT on LinkedIn, Facebook, Twitter & Instagram
Subscribe BOTT Channels on WhatsApp & Telegram to receive real time updates