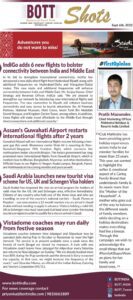 IndiGo adds 6 new flights to bolster connectivity between India and Middle East
In its bid to strengthen international connectivity, IndiGo has announced a new daily direct
flight from Hyderabad-Riyadh along with additional frequencies on Hyderabad-Doha and
Mangalore-Dubai routes. This new route and additional frequencies will enhance
connectivity between India and Middle East. Mr. Sanjay Kumar, Chief Strategy and Revenue
Officer, IndiGo said, "We are pleased to strengthen our network by introducing new
international flights and frequencies. The new connection to Riyadh will enhance business
connectivity and easy access to tourist attractions like Al Masmak Fortress, National
Museum, Heet Caves, Imam Turki Bin Abdullah Grand Mosque, and Kingdom Centre
Tower, among others. In addition, these flights will make travel affordable to the Middle East
through direct connections and additional capacity."
Assam's Guwahati Airport restarts international flights after 2 years
Guwahati Airport will see international flights resume following a two-year gap this week.
Bhutanese carrier Druk Air is resuming its Paro-Guwahati-Singapore fifth freedom flight,
which connects the northeastern Indian city with Bhutan. The Indian government has long
promoted more international flights from Guwahati Airport, which is nestled close to Bhutan,
Bangladesh, Myanmar, and other destinations. Officials hope to see flights to Yangon, Kuala
Lumpur, Bangkok, Hanoi, and Kathmandu in the coming months and years as well.
Saudi Arabia launches new tourist visa scheme for US, UK and Schengen Visa holders
Saudi Arabia has reopened the visa-on-arrival program for holders of valid visas for the US,
UK and Schengen area, effective immediately. Citizens of any country who hold one of the
three visas and who are travelling on one of the country's national carriers – Saudi, Flynas or
Flyadeal – can now receive a 12-month tourism visa on arrival in Saudi Arabia without
needing to apply in advance. Visitors holding a valid US, UK or Schengen visa must have
used it at least once to enter the issuing country or region in order to qualify for a visa on
arrival in Saudi.
Vistadome coaches may run daily from festive season
Vistadome coaches between New Jalpaiguri and Alipurduar may be operated daily during
Puja in October or November to meet the high demand. The service is at present available
once a week since the forests of north Bengal are closed for monsoon. A train with one
Vistadome coach leaves New Jalpaiguri for Alipurduar every Saturday and returns to New
Jalpaiguri on Sunday. "We are already booked more than 80% during the Puja weekends and
the demand is likely to exceed the capacity. In that case, we might increase the frequency of
the coach," said Dipankar Manna, an official of the Indian Railway Catering and Tourism
Corporation (IRCTC).
#FirstOpinion
Club Mahindra has been providing great holiday experiences across India to our member
families for more than 25 years. This year, we wanted to highlight the softer & emotional
aspect of a Caring Family Brand that understands Family & its needs more than the "Mother
of the Household". A mother who goes out of the way to balance the different needs of family
members while deciding on a holiday destination; makes everything feel like a breeze.
Through this campaign, we wish to acknowledge the small things that our
#FamilyKiSuperWoman plans for her family and loved ones."
–  Pratik Mazumder, Chief Marketing Officer, Mahindra Holidays & Resorts
India Limited
Follow BOTT on LinkedIn, Facebook, Twitter & Instagram
Subscribe BOTT Channels on WhatsApp & Telegram to receive real time updates