Priyanka Saxena Ray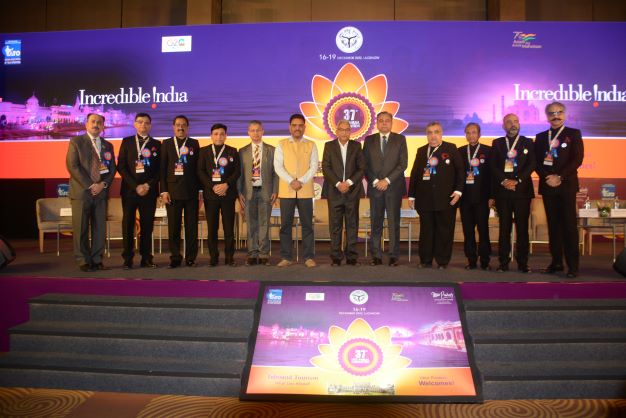 The Inauguration
The IATO Convention at The Centrum Hotel in Lucknow kick-started on December 16, 2022 amidst great pomp and show at The Centrum Hotel, Lucknow. Ravi Gosain, Vice President & Chairman of the Convention started with the welcome address. Rajiv Mehra, President – IATO in his presidential speech thanked Uttar Pradesh Tourism for making the event possible and assured member of the constant support and guidance of the association.
Mukesh Kumar Meshram talked about New Tourism Policy of UP Government and incentives being given to the stakeholders. Shri Arvind Singh, Secretary, Ministry of Tourism, Govt. of India talked about G20 Presidency and thanked UP Government for taking the lead. Mr. Asim Arun, Hon'ble Minister for Social welfare, Government of Uttar Pradesh addressed the delegates and talked about the new infrastructure development being created in Uttar Pradesh. Shri Ashwini Kumar Patra, Hon'ble Minister of Tourism, Govt. of Odisha talked about tourism infrastructure and development in Odisha. Hall of Fame of Awards were given to Sunil Gupta, Managing Director, Travel Bureau and Late Shri Badri Bajaj, Managing Director, Perfect Travels & Tours Pvt. Ltd. and Adventure World (India) Pvt. Ltd. for their contribution to the tourism industry. Sunil Mishra, Hony. Treasurer and Co-Chairman Convention presented vote of thanks.
Another highlight of the evening was the inauguration of the IATO Convention Travel Mart, which for the very first time saw active participation from close to 20 states in India, who were showcasing the best that their state has to offer. Amidst Culture Program and Evening Entertainment, the evening ended splendidly amidst quintessential Lucknawi Kebabs and Biryani.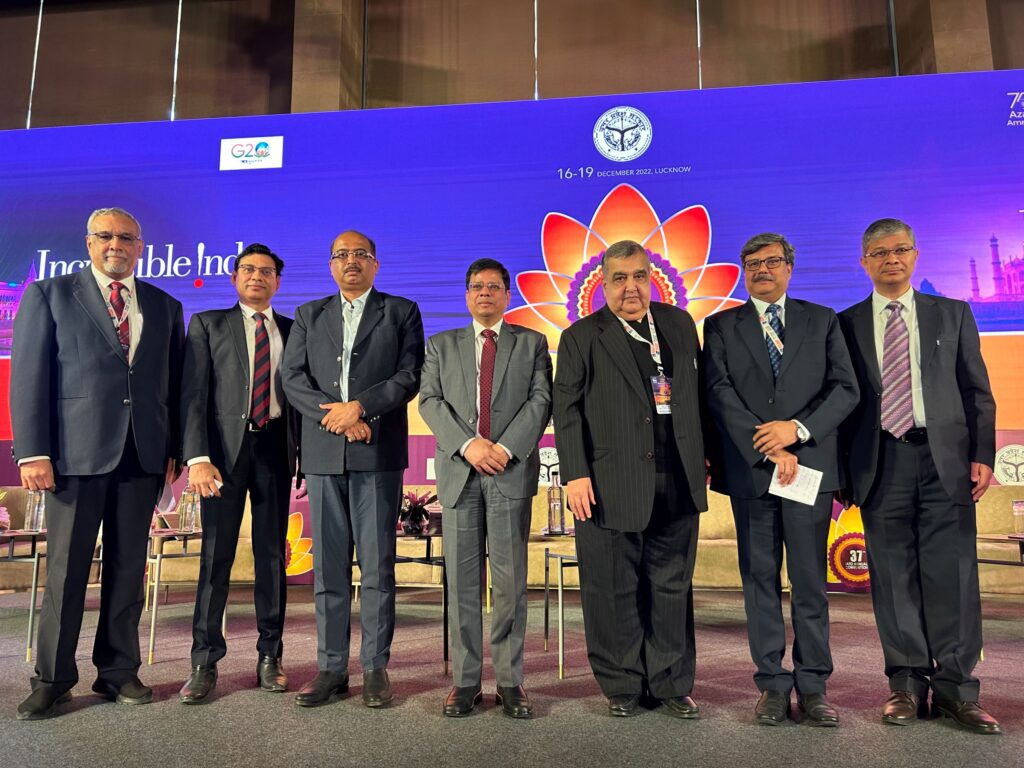 Business Sessions
The first session of the convention–InboundTourism – What Lies Ahead! brilliantly set the mood for the event with a senior panel comprising Rakesh Verma; Mukesh Kumar Meshram, Principal Secretary and DG Tourism, Government of Uttar Pradesh' Sheo Shekhar Shukla, Principal Secretary – Tourism and MD, MP Tourism Board; Sachin R. Jhadav, Director Tourism and MD – Odisha Tourism Development Corporation and Abhay Sinha, Director General, Service Export Promotion Council. The session resonated with the emotion that Tourism sector earned Rs. 211,000 Crore in 2019, which is no small contribution to the economy of India. The government officials were all geared to welcome record-breaking inbound numbers in 2023 – especially in light of 2023 being declared as the Visit India year. "What lies ahead is a great future of inbound tourism. The states have become extremely aggressive and I am confident that we reach the figure of 25 million in bound tourists by 2030. Tour Operators are the most crucial part of this value chain and have a major role to play," expressed Verma. Meshram, resonating the emotion, referred to the IATO agents as "Saarthi's" of tourism who will take the travel graph up and further. Rajiv Mehra, who was also part of the panel, stressed upon the importance of MDA and re-starting MoT roadshows abroad.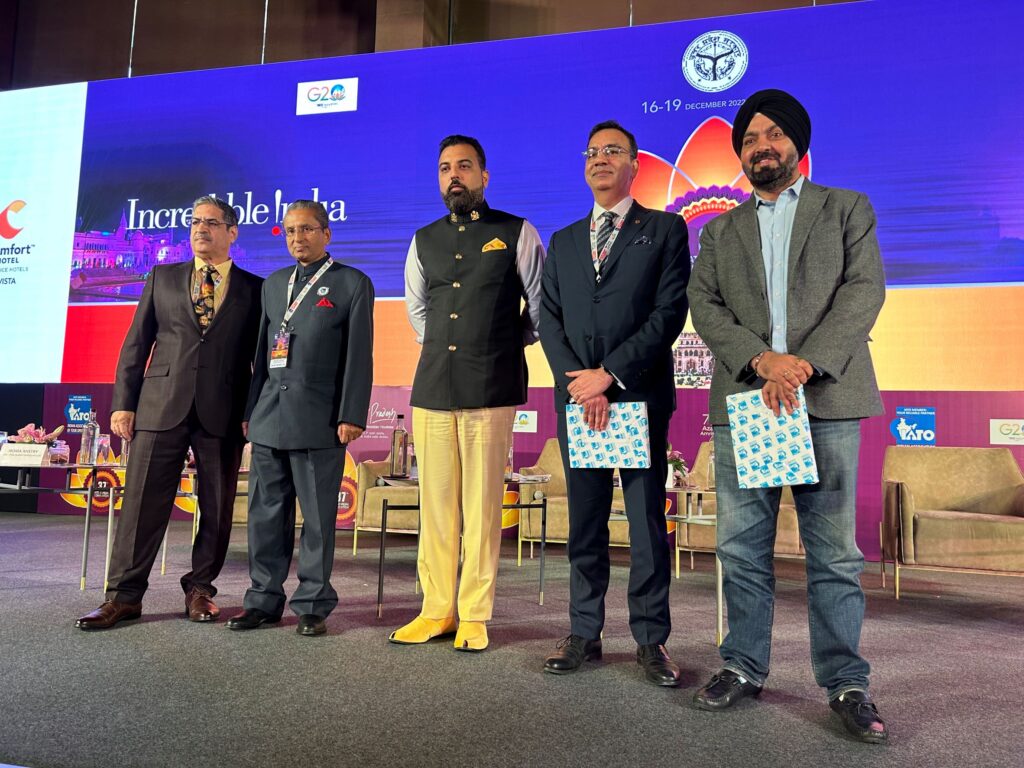 The second Business Session of the Convention was its trademark session that every year explores the bitter-sweet relationship between tour operators and hoteliers and reiterates the importance of this tie-up for the growth of tourism. Called Building Relationship between Hotels and Tour Operators, the session was moderated by none other than Homa Mistry, CEO, Trail Blazer Tours and the panellists this year included Parveen Chander Kumar, Executive VP – Sales and Marketing, IHCL; Maharaj Kumar Sahib Lakshyaraj Singh Mewar of Udaipur, CMD, HRH Group of Hotels; Vikramjit Singh, President – Sales, lemon Tree Hotels and Pronab Sarkar, MD – Swagatam Tours. The highlight of the session was a 4-minutes video shown by Lemon Tree Hotels highlighting the involvement of special needs people in their staff – it got a standing ovation!
The third business session highlighted 'Opportunities in Uttar Pradesh' and was moderated by Prateek Hira, Managing Director, Tornos. The panel featured Ashwini Kumar Panday, Special Secretary, Government of Uttar Pradesh and MD, UPSTDC; Vishal Singh, Vice Chairman, Ayodhya Development Authority; Raj Singh, Chairman, Antara Luxury River Cruises; Chef Rajeev Goyal, Founder, Solutions Unlimited and Eva Sharma, IFS, Government of India, from the forest department.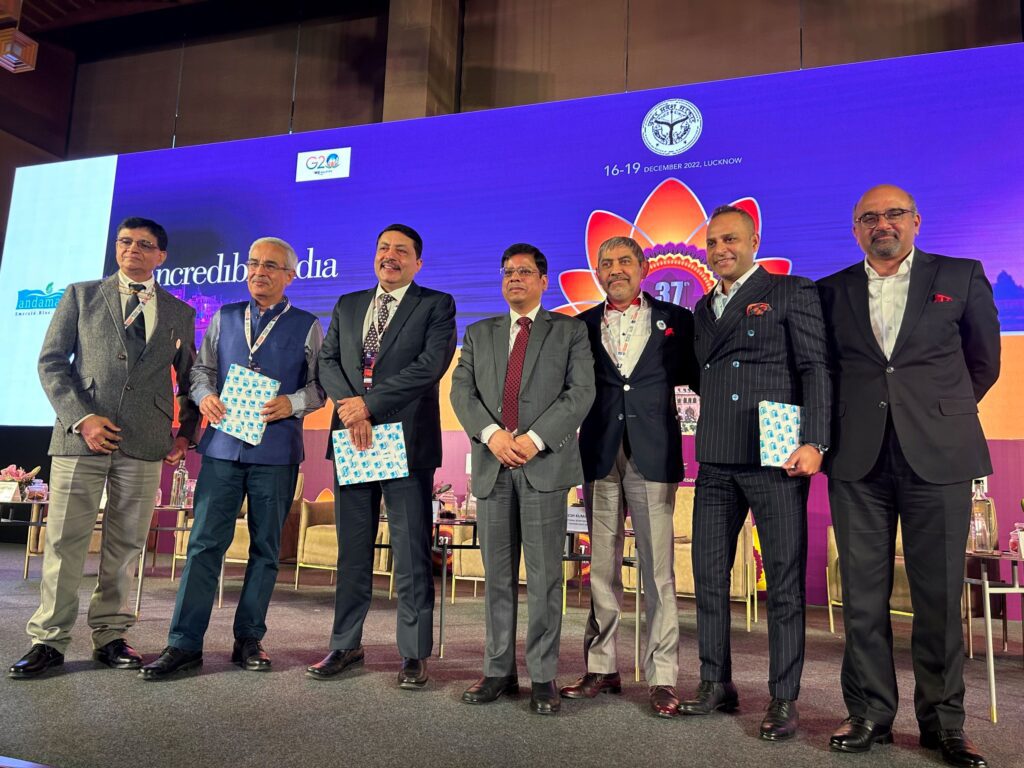 The fourth Business Session focussed on one of the most relevant topics – 'Need of the Hour – Tourism Marketing and Promotion'. Rajnish Kaistha, Honorary Secretary, IATO, moderated the session, which featured several eminent speakers, including Padmashri Ajeet Bajaj, President, ATOAI and MD, Snow Leopard Adventures; Kapil Goswamy, MD, Bigbreaks.com; Manan Mahajan, MD, Orange Tours & Trips and Abinash Manghani, CEO, WelcomHeritage Hotel.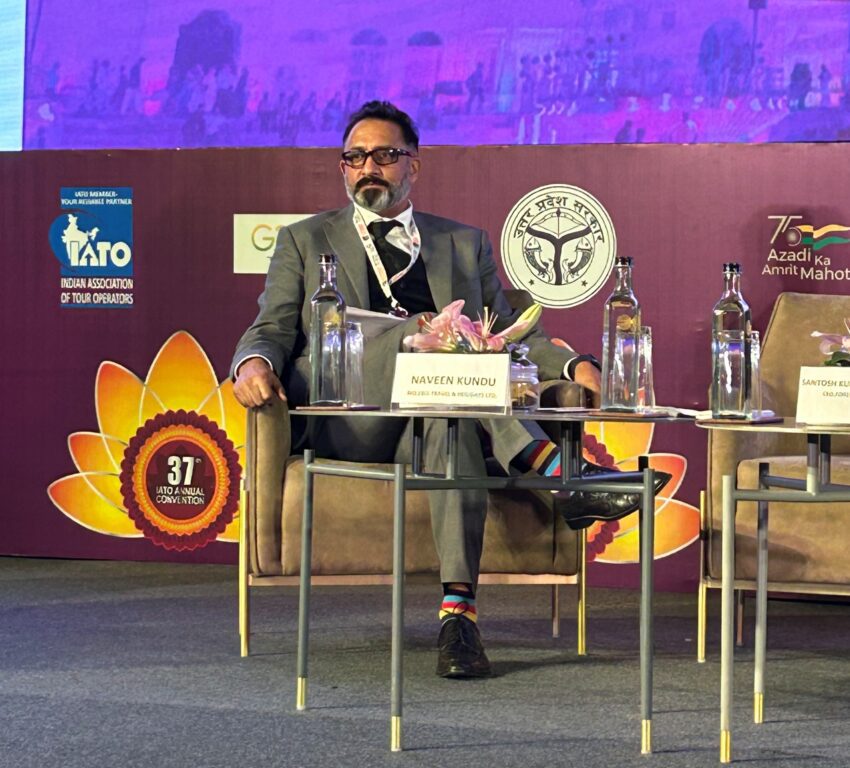 Fifth and last Business Session of Day 2 of the convention talked about Last Mile Connectivity – Air, Rail and Road. Naveen Kundu, MD, EBIX Travel & Holidays Ltd. moderated the session and held meaningful discussion with Rajeev Bansal, Secretary, Ministry of Civil Aviation; SP Singh, Joint Secretary, Ministry of Road Transport; Sunit Kothary, Chairman, Civil Aviation & PR Committee; Santosh Kumar Sharma, CEO, Foresee Aviation and Madhav Oza, Director, Blue Star Air Travel Services.
Day 3 of the Convention was kick-started by a Business Session explore the Unexplored: Rural, Agriculture, Responsible and Sustainable Tourism. Sanjay Razdan, Director, Razdan Holidays, moderated the session that featured Debjit Dutta, Director and CEO, Impression Tourism, Kolkata; Shoba Rudhra, Member, Governing Council, Responsible Tourism Society of India; Pandurang Taware, Agri TourismDevelopment Corporation; Harkirat Ahluwalia, Farm Tourism, Hoshiarpur and Kumar Anubhav, Founder NotOnMap. Saving the best for the last, the seventh and final business session, "What Next" featured Aashish Gupta, Consulting CEO, FAITH, and Harish Khatri, MD and Founder, India Assist, which works with emergency services.
The discussion was moderated by Ravi Gosain.
Valedictory Session
The biggest attraction of the convention was Hon'ble Yogi Adityanath's presence as the Chief Guest during the Valedictory Session held on December 18, 2022 at the Centrum Hotel, Lucknow where he addressed over 1000 delegates present. He talked about the UPGovernment's plans about development of tourism and incentives that have been announced by the UP Govt. He gave more emphasis on the Safety and Security of tourists and assured that Uttar Pradesh is today the safest state in India for the tourists. Shri Dayashankar Singh, Hon'ble Minister for Transport, Government of Uttar Pradesh, Shri Arun Kumar Saxena, Minister of Environment, Forest & Climate Change, Govt. of Uttar Pradesh and Shri Mukesh Kumar Meshram were also present at the Valedictory Session. Shri Mangal Prabhat Lodha, Hon'ble Minister of Tourism, Govt. of Maharashtra through his video message invited all for the 38th IATO Annual Convention scheduled to be held in Aurangabad in September 2023.  Mr. Rajiv Mehra, President IATO made a request to Hon'ble Chief Minister to help the industry for a 2-minute halt of Vande Bharat at Tundla Junction which would help the tourism industry to promote pilgrimage tourism to Uttar Pradesh.During the Valedictory Session on 18th December 2022, Hon'ble Chief Minister of Uttar Pradesh Yogi Adityanath Released the Coffee Table Book on Budelkhand and IATO Manual 2022-23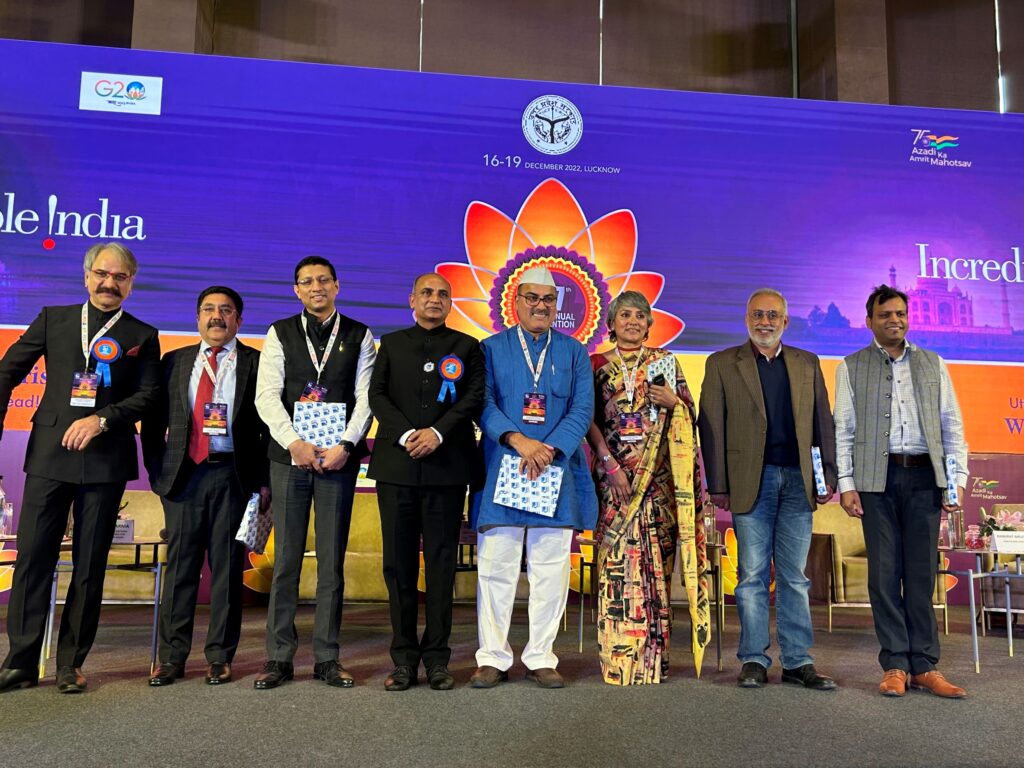 To conclude, the 37thIATO Annual Convention was a huge success with over 1000 delegates from all over the country. The convention was supported by the Ministry of Tourism, Government of India and Uttar Pradesh was the host state. Besides the Ministry of Tourism, Govt. of India and Uttar Pradesh there were 17 other states who participated in the convention i.e. Bihar Tourism, Chhattisgarh Tourism, Goa Tourism, Gujarat Tourism, Karnataka Tourism, Jammu & Kashmir Tourism, Kerala Tourism, Ladakh Tourism, Madhya Pradesh Tourism, Maharashtra Tourism, Manipur Tourism, Odisha Tourism, Punjab Tourism, Rajasthan Tourism, Tamil Nadu Tourism, Tripura Tourism, Uttarakhand Tourism.
Follow BOTT on LinkedIn, Facebook, Twitter & Instagram
Subscribe BOTT Channels on WhatsApp & Telegram to receive real time updates